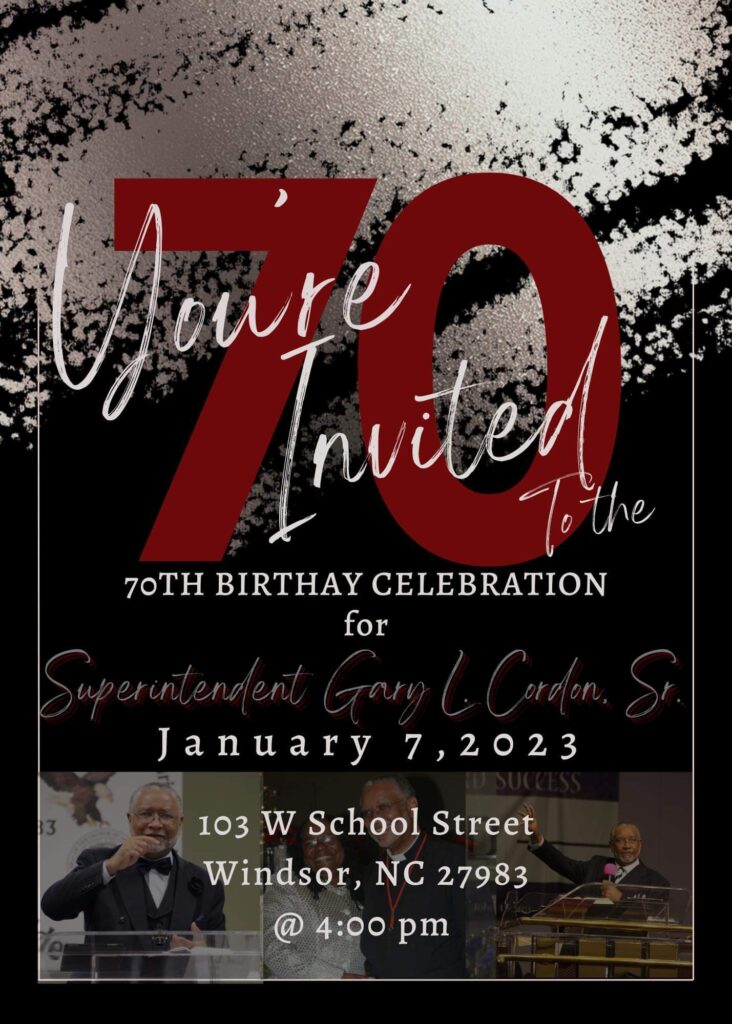 READ BELOW TO RSVP TO THIS INVITATION.
A Classic Man
70th Birthday Celebration
We want to thank you in advance for your participation in this 70TH BIRTHDAY CELEBRATION for husband, father, grandfather, Superintendent, Pastor, Dr. Gary L. Cordon, Sr.! He has a lifetime legacy of noteworthy contributions to his family, church, career and community and still going strong! He has been and continues to be a significant part of our lives. Both directly and indirectly, he positively impacts us in some way. Seeing you on this special occasion will mean so much to him!
Please put it on your calendar right away and make plans to join us for a delicious meal, live entertainment, and share your words of love! Your presence will mean so much to him, ESPECIALLY THIS YEAR! It will *NOT* cost you, (AS MY SPECIAL GUEST, JUST BE THERE!) and we're asking you to bring him a 70th year gift (money is always preferred, but thank you for ANY GIFT for a show of love)!
** DUE TO COVID, THE VENUE HAS STRICT REGULATIONS ON THE AMOUNT OF PEOPLE WE CAN HAVE IN ATTENDANCE. SO PLEASE CONFIRM ASAP! WE WANT YOU THERE!I **
-For Monetary Gifting-
January 7th between the hours of 4:00 – 5:00pm
We want to cash app him birthday gifts. We're praying that he will get AT LEAST SEVENTY people to cash app him (you decide how much).
Cash App to $PastorCordon on January 7th at the designated time according to the first letter of your last name as scheduled below:
4:00 PM Last Name A -F
4:15 PM Last Name G – L
4:30 PM Last Name M- R
4:45 PM Last Name S – Z
SATURDAY, JANUARY 7, 2022 | 4:00 PM – 7:00 PM | COUNCIL ON AGING CENTER, 103 W. SCHOOL ST, WINDSOR NC
RSVP TO CHRYSTI CORDON AT [email protected] OR (252) 325-4095 BY DECEMBER 20th SO THAT WE CAN EFFECTIVELY PLAN FOR YOUR ATTENDANCE.
***IT IS AFTER THE DEADLINE, PLEASE EMAIL OR CALL FOR ADDITIONAL INSTRUCTIONS & INFORMATION IF YOU WANT TO ATTEND OR PARTICIPATE. ***